Send us your Photos
We would love to see your fishing photos. Email recent catches along with a few details like a small report on who caught the fish and where you caught it to Corpusfishing
View more recent Photos of the Week
"Photos of the week or longer depending upon how many you send in :) "
12/09 6 yr old Justin Golla is not much bigger than this 39" black drum caught on 11/30 at Mansfield Jetty.
10/23 - Ed Scrimpsher "RedEd" with a nice bull red taken off the Port A Jetty 10/19 taken on a live piggy perch on a Breakaway pulley rig.
9/23 - Steve Attzenhoffer writes "Tyler,

Just wanted to pass this picture of my son Jake Atzenhoffer on to you. Jake caught this huge red while fishing with friends, Mike and William Webb. The Redfish was 42" and weighed 33lbs.
We were fishing near the end of the south jetty at Port A. We anchored near the Island Queen so Jake had quite an interested audience to catch this monster. It was his first tagged fish with his first fishing licence he was so proud to have.

We went to the East Flats last friday. We were almost plowed over by a huge school of reds while wading near the northern shoreline. We could see the school coming from about 50 yards away because of the wake they were making out in front of them. I through a finger mullet out in front of them and one of them grabbed it as soon as it hit the water, but kept swimming toward me so fast I couldn't keep the slack out of my line. As soon as it swam by it snapped my line before i could even react. Now I know what a redfish run looks like. What a rush!

We are from Orange Grove and really enjoy reading you articles on the web. Keep up the good work"

Steve Atzenhoffer
9/3 "Sent in from Zach Hart - Zach Hart with 24" red and Matt Davis (Fish4Brains) with 29" tagged red caught in South Bay, 8-22
8/26 from Cathy Golla who writes "The Golla gang managed this catch from the 35(mm PINS) on Sunday. 13 trout to 23-inches, lots of under size reds with a few keepers, one flounder, one 24-inch Spanish Mac. and some fare size whiting. Gold spoons worked well in the early morning but we had to switch over to live finger mullet mid day. The surf is loading up with migrating mullet and making for some real good bait opportunities."
Here is a nice waterspout image captured Monday morning 8/5 in Corpus Christi Bay by Surfmeister Bryan Wadkins
I recieved quite a few photos this weekend and since we have not had a photo of the week for a while all three will be on it this time 7/29!

Keith Schmidt writes : "I (KEITH SCHMIDT) CAUGHT THIS SAIL FISH 6/25 WHILE FISHING WITH GUIDE WAYNE SERPA NEAR THE RIG BIG SOUTHERN. ESTIMATED WEIGHT WAS 45 LBS.
Jesse writes "Tyler,i caught this (lemon??) shark saturday the 27th out of mansfield pass
from bank about half mile from surf on national side. it was about 4 and half
foot, brown. Took picture and turned lose. thought you are some of your
shark experts could confirm name.
Thanks Jesse
Jesse that looks to me like another nurse shark. That is about the third one that I have heard this year. Capt. Billy Sandifer says they are extremely rare and lo and behold here is another one.
And finally, RJRunnels and son at Los Cabos witha nice Bull dolphin - dorado - or mahi mahi
Keep them coming and thanks for the pics!
Tyler
7/8 - Oz of Austin with the catch of a lifetime on PINS near the 35 over the 7/6 - 7/7 weekend. The tarpon was 6'10" and estimated to weigh close to 200 pounds' The fish was released unharmed. Way to go OZ!
7/3 Got this nice one from Trevor "Aggie" Johnson who writes:
"Tyler, Here is a picture of the trout I caught at JP Luby on Friday morning 6/28. The fish measured 28.5" and hit a Plum/Chart TTK. usually I release my fish, but this one was kept for a friend who was coming into town last weekend and I was unsure of our fishing prospects. "
6/22 "S" Davis with a nice mess of surf trout caught on the Padre Island National Seashore.
6/9 Via Capt. Charlie Newton who sent this in:
"Juanice Miller, Rockport, TX., caught this 29" tagged redfish. This was her first time ever to go out on the water in a boat and fish. She had a blast and they caught 9 other redfish and this 29" tagged one, plus one 20" trout. As Capt. Charlie Newton ( www.redfishcharters.com ) ( 800 862-7987 ) their guide would say "I've ruined another one, now she will want to go all the time." Her and her husband Steve sure enjoyed the short day's (2 1/2 hrs.) fishing to catch all these."
The picture says it all.
From Nick Meyer 6/1 "Check this out. I was cutting up a Whiting for a Shark bait and found this in its stomach. A fish bite. Lime green. I pulled it out and used it to catch some more Whiting. My granddad always told me "try and feed the fish the bait they have been eating". "Don't try to give a Bear apples when its looking for berry's" Seems I had better stock up on more fish bites. Regards Nickaway "
John Morris sent these that he took in late April with angler Randy Kravig of San Antonio getting this nice jack and shark.
Nathan Hodgkins and Brad Schwirtlich caught these two bull reds 4/14 around the 3 mile mark on the Padre Island National Seashore. They waded out to the second bar to nab these 40 inchers.
Jim Green who writes "It has taken me three years to land my first drum. I have been learning on my own and finally it has happened. I caught this one on the 25th of Feb at the pier where the ferry's are in Port A (Roberts park). I have fished the Big Shell tour. for the last 2 yrs and no luck except for the guy with me or group tool third last year with a 35 or 38lb stingray. Thanks for all of the info that this site give's keep up the good work"
James Neu of Austin sent in these Land Cut trout under the lights taken back in October. He says most were 14 and a half inches!
Marcy Boyd caught this 20 pound plus jack with Billy Sandifer of Padre Island Safaris on October 19th only to have a shark take everything but the head. The rod didn't even twitch and the shark was never visible.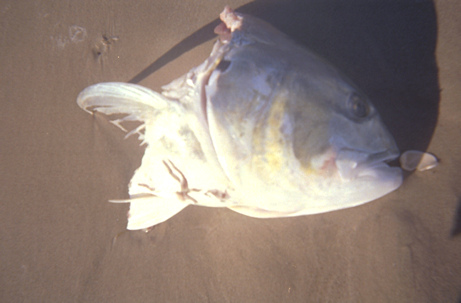 Dan Nakoneczny of Austin took this photo Saturday morning 9/22 in what was one heck of a nice thunderstorm on the Padre Island National Seashore around the 18 mile mark. Great shot and no damage or injuries reported with this water spout
BJ. Noles with his second tarpon of the season caught on finger mullet 8 miles south of Bob Hall Pier over the Labor day weekend. B.J. is a seasoned angler with two state records to his credit. B.J. is the son of Byron and Debbie Noles of Flour Bluff, Tx.
Rocky "the Reeldoctor" at Roy's Bait and Tackle has the photo of the week with the latest STAR winner in the CCA tournament with tagged redfish number 5 caught by 87 year young Jack Handley. Jack will win a new F150 Ford Supercab pickup with a fully rigged 22' Blue wave boat, motor and trailer. Jack signed up for the tournament at Roy's on Saturday 6/16 and caught the redfish on Tuesday 6/19 in Sharock Cove on a live shrimp. His quote was "Now that I've got one foot in the grave, my ship finally comes in".