Thanks to all of our sponsors. If you like the site be sure to tell our sponsors. They make it possible. Fishbites, Deep Sea Headquarters, Wind and Wave, Angler's Fish-N-Mate, Mirrolure, Roy's Bait and Tackle, "Wade and Kayak Fishing on the Coastal Bend of Texas" by Ray Crawford , Ronnie's Premier Yamaha Marine, The Cos-Way, and Ron Hoover RV And Marine Centers, Blue Streak Fabrication and B & S Watercraft!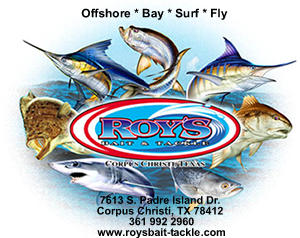 Corpusfishing recommends:My Friend Dr. David Mckee's Book!
http://www.bnswatercraftandmarine.com/
Tiffany Roberts with a beautiful 28" 8lb plus trout she caught on live shrimp in the first gut north of Packery on 5/20
Ziacatcher caught this 50" Ling south of Bob Hall Pier fishing 10/20
Ironmanstan's nephew caught this 50" ling on a croaker while camping and fishing at Fish Pass July 5th
Curtis Cantwell sight cast to and caught and released this tarpon while fishing the King Ranch Shoreline recently
Larry Edwards caught this snook on a bull minnow March 1st at 6pm fishing his bulkhead in Padre Isles.
Corpusfishing gets over 3 million hits per month!
For Advertising information email to Tyler@corpusfishing.com and thanks for visiting!
Tyler Thorsen
Editor